Finally we left Morocco behind us and are now in the Moroccan occupied territory of Western Sahara. What a difference! We've been on the road killing kilometers for the last few days. We've been keeping the speed around 80-90km/h so as not to ware out the desert tyres. We made Dakhla today and intend to push on tomorrow to Nouadhibou, Mauritania, passing the tropic of Cancer as we go. From there the plan is to ride eastwards into the Sahara alongside the railway line which links Nouadhibou with Choum. It should make for an interesting few days. One side of the track is a minefield ,won't be going near that, and the other is sand trail littered with old pieces of broken track. The Rough Guide strongly advises against this route without the aide of a guide. Where would the fun be in that?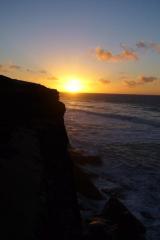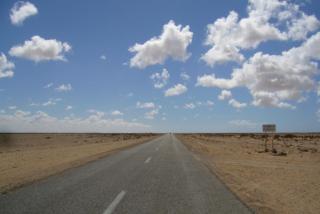 On the way down through Western Sahara we've been stopped almost every 30-60km. Initially I found it off putting but the Moroccan police temperament goes a long way to making amends. One guard was almost inviting us around to his family home while another humoured us to no end as he went on at length about Morocco's #1 export. 'Columbia has theirs and we have ours'. It was hilarious hearing this from a police officer.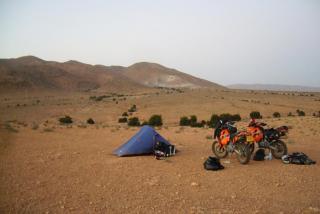 We've uploaded a few more pictures to the Morocco gallery. They'll be the last additions.