We arrived in Gambia after a non-eventful departure from Senegal. We had originally planned to spend just two nights in one of the quiet beach towns south of Banjul. That was the plan. Instead we spent a week there. This is the way it goes on the road. The trip takes on a life of its own through unforeseen interruptions. They've been the best parts so far.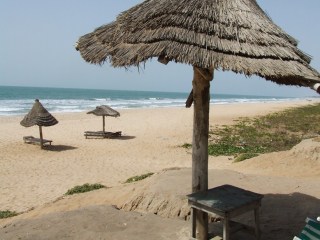 The first night in Banjul saw us cringing at a package-holiday hotel. This was bizarre! It's not the sort of life we've been accustomed to on the road. We mixed up the name of the planned accomodation which shared a strikingly similar name to that of a nearby package holiday hotel. The price was reasonable enough, we were tired, and we thought what the hell! I could swear that the people who go on package holidays are escaping reality. I can still vividly remember a middle aged woman dressed up as if she were a clubber in her late teens. She was paired with a dude wearing white trousers, long slicked-back hair and a golden medallion jumping out of a hairy chest which, to put the icing on the cake, was out on display through the open buttons of a flowery white shirt. Think of a fat Johnny Depp from Blow with a total absence of cool. The hotel and surrounding area were also full of old ladies with young Gambian guys. I've seen its reverse in Thailand. Old men with young Thai women. Can't say I agree with the whole thing. Maybe I'm too closed minded but it's not really right when 60 year olds are dating 20 year olds.
The next day we escaped to Sukuta camping. An overlanders haven. It was there that we found our interruption in the form of a group of Austro/German Jesus Freaks and a Dubliner who has thumbed it all the way down to the Gambia from Europe. The Jesus Freaks are a sect of young Christians who are devoted to the way of the lord. My impression is that they're making Christianity cool. A bit like the 'catholicism wow!' campaign launched by cardinal Glick from Dogma but with a lot more of a rock and roll edge to it. Check out their Austrian website for a thorough overview. Or consider Theo. Theo drives a unimog which doubles up as his own personal home on wheels. He's also given it a wicked paint job. On one side there's a massive Christ head interspersed with 'Jesus. The Christ has a posse' and on the other side is the signature Alpha to Omega Jesus Freaks logo. He was actually kicked out of Dakar by the police because he was driving the van around during the Islamic summit which was being held there.
Colm was the Dubliner and his story is an inspirational one. He's relied on the generosity of strangers to get him from Dublin to Gambia. That's around 10000 kilometers of human kindness! Suffice to say he made fantastic company on Paddy's day and it was great to be in the company of a fellow Irishman on the road. Apart from the priests and missionaries there's really not a lot of us out here.