Paddy's day ended up being a bit of a mess. Colm and I started off by rallying the troops to partake in a day long celebration of Celtic mysticism. We set off at midday to a beach-bar for our first refreshments accompanied by our Jesus Freaks buddies.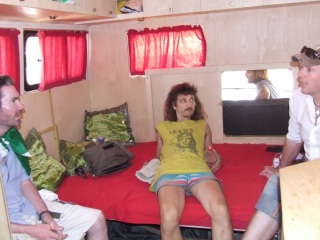 We also managed to recruit two German twins into our group to drive us around in their huge Mercedes overland truck. These guys were a dead ringer for the twins from The Matrix. Unfortunately they left us half way through the day.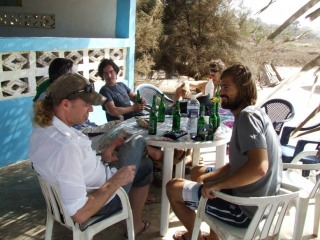 As the day progressed and the twins and their transport abandoned us we decided to hitch our way to McManns Irish bar in Senegambia. Colm got a lift off a guy on a push bike. This guy got a major thank you and a few free beers after cycling with Colm for 5km in the blazing hot sun. Tina, Jeremy and I were able to catch a cool open top 4×4.
We spent many hours reveling at an outdoor table in McManns. Think 6 Irish people standing on their chairs singing joyously to U2 and Luke Kelly songs. We eventually got home only to realise that our camera hadn't come with us. It had been on the table and I'm pretty sure someone decided to liberate it. If it hadn't been such a long day I may have been coherent enough to have kept hold of it but that's the way it goes. We've not been lucky with our cameras. Jeremy's replacement camera, which was broken in Andorra, was en-route to Dakar but was somehow also lost. It's now turned up in Senegalese customs. This is more than two weeks after its 5 day guaranteed delivery date. We're now trying to have it sent to London and then routed down to Togo. For now we've added some pictures that we've been able to scavenge from friends.