Many of our friends and family had expressed concern when they heard Mauritania was to feature on part of our route. Four French tourists had been killed there in late December. This attack precipitated the cancellation of the Dakar rally. The Israeli embassy was later bombed and there were reports of another French tourist being murdered close to the border as we were in Western Sahara.
Sadly it would seem that most people have decided to heed their friends advice and skip the place entirely. Apart from other overlanders like ourselves the country is void of tourists. This is a shame as Mauritania and its people are pure gold and those skipping the country are missing out on a rare gem.
While in Mauritania we were treated with great hospitality. The guy who ran our hotel in Atar, Bouha, went to great effort to keep us topped up with tea. This is no small thing. Making tea in Mauritania is an art form and a time consuming activity to boot. Bouha also invited us to his family home and cooked us up a great cous cous. This kind of hospitality was very unexpectedly extended to us again by the Mauritanian border guards at Diama. Normally the border guards are your enemy. Hassle is quite often their specialty and they tend to dish this out in large quantities. We saw this in great effect at Rosso where we were held for two hours as the police attempted to scam us. Rosso has been rated as the worst border crossing in Africa hence our attempt to avoid it. The Diama guys however invited us in for a great meal and even gave us a room at their border post for the night.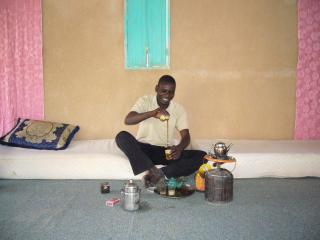 The African surfers recently put up a post which included a Moroccan quote which translates to: "Those who do not travel do not know the good of men". I'd never heard the quote before but its meaning I have come to know as this trip has unfolded.