Magically transporting us out of Africa with their hospitality and generosity was not the only trick that our Italian friends managed to pull off for us. Most of them worked for an Italian company called Trevi Foundations who are  based in Lagos and Port Harcourt amongst other places in Nigeria. When Alain, our main contact at Trevi, heard that we were going off to Calabar on the other side of Nigeria he offered to send us all the way on the back of one of their trucks !
You may or may not know that certain parts of Nigeria are completely notorious for their crime and are completely off limits for foreigners as the chances of kidnapping are extremely high. This is mainly because most foreigners are associated with the rich oil companies like Shell who are seen to be exploiting the Niger Delta without really investing back into the local communities. Although that has now changed, the government now receives almost 50% of profits from oil companies working in the delta, corruption at government level means that none of this money is really finding its way back into the delta communities. So for the locals little has changed.  As a result rebel groups formed and have resorted to kidnapping and holding people for ransom, or sabotaging the pipelines and so on. In fact oftentimes the rebels are more heavily armed than the authorities!
So for us to be offered a safe passage all the way through this part of the country was a godsend for us as it allowed us to travel with complete peace of mind and not have to do a bit of a circuitous route around the delta states into Calabar.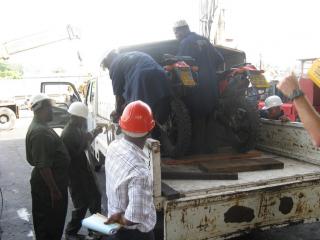 Early on Monday morning saw our bikes being loaded onto the back of the truck of our new sponsors – Trevi! It was great to be shown around the yard and to be introduced to all the bosses as if we were some kind of strange heroes for traveling through Africa by bike. It just goes to show that the Italians really are completely mad about motorbikes!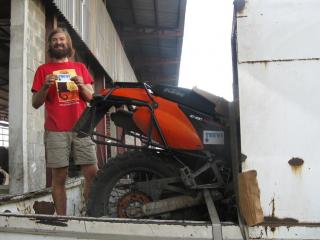 Amazingly two days later and our magical Trevi carpet had whisked us across the country and dropped us off in Calabar with no problems and our stomachs still full of excellent Italian food from the night before when we had stayed in the Trevi guesthouse in Port Harcourt.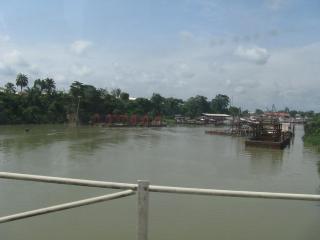 There are no words that can fully say thank you enough for this kind of generosity that we have experienced while here in Nigeria, not only from the Africans who are traditionally so generous, but even more so by the Italians and other ex-pats that we have met along the way. They have gone the extra mile for us and we are truly grateful.
When you put yourself at the mercy of other people while you travel you can be completely overwhelmed by by their generosity, it's something we have experienced all the way through Africa and it never ceases to amaze us both. There are definitely more good apples than bad!