After escaping the clutches of the bar at Le Galion and the wonderful hospitality of Yawo and the guys at Toni Togo we eventually managed to leave Togo and head across to Benin. We were rushing out of town so that we could hopefully meet up with Rich, Sacha and Kru once again in Cotonou the capital of Benin.
Due to our late departure from Lome we only managed to get into Cotonou well after dark, it was pretty hair raising because of the sheer number of crazed motorcycle taxis there, hardly any cars, but man I have never seen so many motorcyclists with an absolute death wish! It was all worth it though as we rolled up to find Rich and Sacha and Kru outside having a beer and some great street food – we must have looked like quite a crazy lot of white people to the locals!
As the title suggests we then decided to head over to Lagos, partly because it seemed an easy days ride from Cotonou and partly I think we wanted to go there in person and see what all the fuss was about! We were in for a little shock, but it wasn't necessarily in Lagos.
In an attempt to be smart we decided to take a slightly quieter border crossing from Benin into Nigeria a little north of Porto Novo, this proved to be a mistake as the quietness of the border crossing meant that the officious Beninese police decided to check out all of our documents… and we found out that our insurance for the West African countries had expired a week ago! This prompted Keith to say in French "How can I help you to help us?" to which the Policeman just smiled and started to haggle over how much our dash should be!
On the Nigerian side things were easier but slower, no less than 5 different ledgers had to be filled in for different government departments, it all took an age but at least the Nigerians were smiling and really nice all the way through!
At this point we had managed to cross the border, it was still early afternoon and we had an estimated two hour drive to Lagos, however dark storm clouds were gathering on the horizon ahead. Within 45 minutes we were riding through a torrential downpour, soaking wet with the bikes aquaplaning on the surface of the road which had about an inch of water on it! Needless to say we sought the closest shelter we could find – a petrol station forecourt that had about ten local bikers already taking cover from the storm.
It was good craic with the other bikers under the shelter and though we have answered the same questions about the bikes a couple hundred times already it never ceases to amaze and entertain us when we see the surprise on people's faces when we tell people how far we have come, sometimes you have to pick their jaws up from the ground they are so amazed. In so many ways we are just like aliens from space to these guys who think their cheap 125cc Chinese bike is the latest and greatest thing, it's a shock for them to see our "huge machines"! I don't think many Africans can even imagine traveling around their continent like we are doing – it just boggles their minds at times to think we are not being paid and are spending our own money to do this trip. But there is always such camaraderie at these times with us showing them our bikes and all the bits and pieces we have on them!
This had to be the high point in the day, because as soon as things cleared up we were on our way again to one of the largest traffic jams in Africa! The combination of rain, roadworks and the most aggressive crazy driving made our arrival into Cotonou a walk in the park in comparison. The last 30 kilometers took us in the order of two and a half hours to get to Lagos Island!
Because we had just crossed the border into Nigeria we ended up arriving into Lagos late at night with no cash (we were holding out for an ATM, but international cards don't work here), nowhere to stay and severely traumatised from the traffic on the way in! This was our most crazy arrival yet into any city and Lagos was looking like it was going to live up to it's reputation of a no go city!
After hunting around a few brothels/hotels that were in our price range, we managed to find a place in the Ritz – not the kind of Ritz you imagine, but the kind of Ritz that has rooms by the hour and the night. It was reasonably clean, cheap and secure with a place to hide the bikes as well.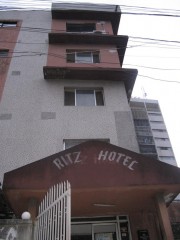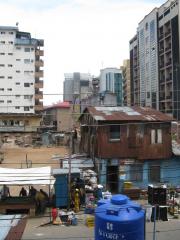 The thing that we both felt though on arrival into Lagos was that this place was something else, a huge sprawling metropolis with motorways and flyovers and skyscrapers, millions of people all crammed into a mess of humanity – this is the New York of Africa and we actually both instantly liked the place!
We've uploaded some more pictures into our Nigeria gallery here and we will be blogging again soon about the amazing time we've had in this great city! Unfortunately we haven't been able to take as many pictures of Lagos as we would have liked to because for security we didn't carry the camera much and the boys from Lagos really hate their picture being taken!