This day last year saw the grand departure from a very wet, cold and blustery London. It was a great day to leave as the memory left an indelible impression on both of us. As we rode out through the streets of London I can vividly remember thinking 'thank god I'm leaving this s%$t behind'. The idea was to hit Cape Town by late April and having only made it as far as Ghana by then it was clear that the plans had changed. Â We then pushed back the idea of Cape Town to 5 months or maybe 6 and then in Nigeria in a moment of clarity we were struck, as if by lightening, that no plan was the best plan.
Currently we're in Limbe, Cameroon. There was a plan to make Cape Town by February but it only took 3 days before we remembered the great discovery made in Nigeria. We celebrated Christmas, New years and even Jeremy's birthday here. What a strange but fantastic moment Christmas day was. Sitting at the bird watchers club poised on the balcony with the waves crashing on the rocks 20 meters below us. It was 30 degrees Celsius, the sun was shining and the skies were blue. There was even a fine breeze coming off the ocean to keep us fresh and cooled. What a great setting in which to enjoy the next treat. A gourmet 6 course meal which comprised of none of the traditional turkey, ham or stuffing. Instead there was salmon, foie grasand duck. It was fantastic and we hardly even noticed it was Christmas, at least in the sense that the shops weren't crowded, it wasn't full of commercial messages of buy buy buy and fake piped music full of Christmas cheer, and where the real point of the celebration was totally ignored!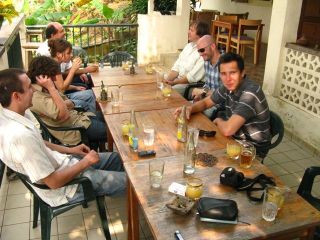 As we look forward to the road ahead it brings us many questions as to what to do, but I'm sure we'll find our way in our own time. We are certainly keen not to miss out on all the wonderful people who have touched our lives with their incredible generosity during this past year, those who have opened up their lives and their homes, fed and watered us and given us their friends details along the way or just jumped on the back of the bike to show us how to get to a place when we merely asked for directions! This is I guess the true spirit of Christmas and really shows mankind on it's best day, something that happens a lot more than the news would have us believe!