It's quite a shock to look back at the calendar and realise that it's been 6 months since we arrived in Cameroon intent on hitting South Africa in the next couple months! As our last blog post alluded to, we've not just been bumming around but have actually been quite productive working on a few ideas that will hopefully come to fruition in the next few months.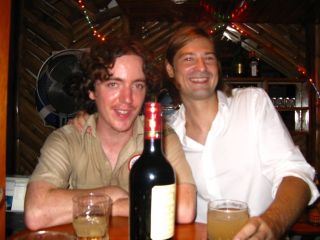 There was a bit of speculation after our last post that perhaps one or other of us had met a woman that had held us up, unfortunately that isn't really the case, but I think the truth is actually pretty exciting too!
During our time travelling through Africa and the months volunteering for Pandrillus in Nigeria both of us started to get a sense that we really wanted to stay and start something in Africa. Our long term dream has always been to start our own business, and when the stars seemed to align fortuitously we both grabbed the opportunity with both hands!
It all started when Keith's bike broke down once we got to Limbe and we had to wait around a couple weeks while a tiny spare part was sent out from Europe. In that time we met a bunch of really cool people in Limbe, fell in love with the place and decided that perhaps there were some great opportunities for us here.
This was coupled with the fact that the company I (Jeremy) was working for was having another round of redundancies with a very attractive voluntary redundancy package… so I went for it, seeing it as the opportunity it has been to start something new and exciting.
Another exciting development for us was meeting Bill who is another like minded individual, interested in IT, development and social entrepreneurship. We hit it off from the beginning and have been collaborating ever since.
So sorry for the silence on the blog, because we didn't want to reveal too much until all the paperwork had been done for my voluntary redundancy and my final leaving date had passed, however we are now ready to reveal a bit of what has been keeping us busy!
Our main work has been to start setting up a consulting company called BryL Consulting (combining the first two letters of our surnames). BryL has done a number of websites as well as consulting and IT support for a few companies operating in Cameroon. We are also developing a few products and services that we will be offering later this year to SMEs in Cameroon. Our strategic location only an hour away from the main commercial capital of Douala should allow us to tap into a bigger market there as well.
We have also started something with Bill we are calling Limbe Labs – a not-profit we are setting up which will develop local IT skills and also act as an incubator for people to start their own IT businesses or startups. We would like to develop a strong IT community by starting things like bar camps that encourage local developers and entrepreneurs to get together exchange information and network. Running alongside this we want to start a couple income generating projects for the Labs. One is an evening course doing training in various higher end IT skills that Keith, Bill and myself have. Another is to act as an incubator for startups – we would identify good ideas, give seed funding to the entrepreneurs and help them obtain angel or venture funding for these businesses. We will provide facilities and mentoring and take a small slice of the equity in the business in exchange. This would give our Labs the income it needs to be self sustaining.
Aside from this we have a beach project, we want to develop a low cost, low impact eco tourism beach place for people to come and chill out. We will use local materials, electricity will be hydro powered from a nearby stream and we will get fresh water from the same stream. We intend to build a number of stilt wooden lodges right on the beach front, with full privacy, though they will be hidden from the beach because of the tree line at the edge of the beach. We will also have some dorm rooms and also some hammocks/tents for the volunteers and so on that kick around this place! Our goal is to have an environmentally friendly place with a great atmosphere, ice cold beers all time time and awesome food at an affordable price – with perhaps some kick ass cocktails thrown in!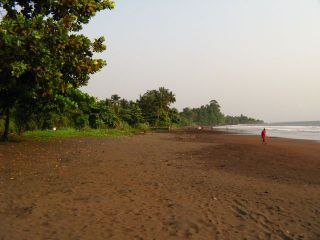 So you can see we have plans… many of them!
What I (Jeremy) would like to do is to develop things that enable people to earn a living, have dignity and their own successful businesses. Capitalist development I guess! It would even be cool to have an NGO that generates it's own income for it's activities, rather than getting lots of grants for small projects – it would be great to generate real autonomy, not dependency on donor organisations with their own agenda.
As you can tell we are planning to be in Cameroon for the foreseeable future, and with that in mind Keith, Bill and I have moved into our own place. A shock to the system after spending so long in tents, hammocks, hotels and couches! But having your own bed and a place to call home does feel pretty good too!
We'll try and keep blogging about our progress and share some of our stories, as well as put some pictures online of our place and the work we are doing.